Take It Easy On Jordany Valdespin
If you're a part of what we call "#MetsTwitter," you understand the cult figure that Jordany Valdespin has become amongst the fan base. Dating back to his minor league career, rumors of his antics have been widely spread by beat writers, former teammates, and anonymously– current teammates. The public witnessed these antics when Jordany infamously posted a picture on his Instagram account wearing a Miami Marlins cap. He's posted numerous pictures modeling his outfits and his cars. He's even posted shirtless pictures, with one picture in particular causing a stir because he was wearing nothing but a towel laying down on his bed. The fans,
especially on  social media sites like Twitter and Instagram, have gotten a  huge kick out of Valdespin and the laughter he ensues.
There are two burning questions here: 1. Who takes these pictures for him? (I say the hotel pics are Tejada, his super secret right-hand man killing it with the ladies on road trips). 2. Why does he get away with it?
The answer for the second question is easy– his talent.
Jordany Valdespin has lots of it. He runs well, which allows him to have  good range on defense and to run the bases, he can hit for average, he can steal a base when he's on, and he's selectively aggressive at the plate, making him a solid pinch-hitter. After some reps at 2nd base  in the majors that came with mixed results, Valdespin, or Valdy, was converted to the OF. He may not take the prettiest routes, but his athleticism and his speed makes up for his inexperience and he gets the job done.
He began his major league career with a bang– a game-winning homerun off Phillies closer Jonathan Papelbon and he hasn't looked back since; coming up with clutch homerun after clutch homerun the rest of the season. It's April and he's already won the team a game in walk-off grand slam fashion.
His antics rub may people the wrong way. Plenty of people aren't fans of his attitude and his game, but he has a strong fan base that roots for him and appreciates what he has brought to the team. He's brought some swagger and clutch hitting to a team that at times seemed so bland and boring.
The other day a former minor league teammate, Erik Turgeon, blasted Jordany on twitter after he hit the walk-off grand slam, using some harsh words. A few others that have been around him agreed with Erik. New York Daily News beat reporter Andy Martino wrote a piece on Valdespin that included some player comments from last year, when a prank on Jordany by his teammates went wrong, and the night of the walk-off:
The T-shirt fight was the bad time.  Last July in San Francisco, Valdespin violated team policy by wearing a white undershirt on the team bus to AT&T Park. You are required to wear a collar.   With that mix of caring and bullying unique to locker room culture, a few veteran teammates cut up the shirt during the game, and defaced it with magic marker.

When Valdespin (above,  discovered this, he went ape. Screaming, cursing, storming toward Ike Davis and Josh Thole, neither of whom had anything to do with it. Terry Collins had to rush from his office, in street clothes, to diffuse the near-fracas.

"He's an idiot," one miffed teammate said that night.

"He's a d—–bag," added another the following morning.
But on the night of the game-winner, one teammate said: "He's getting better. He still has a ways to go, but he is getting better."
I think it's time people give Jordany a break and realize that if he was a terribly toxic clubhouse presence,  he wouldn't still  be on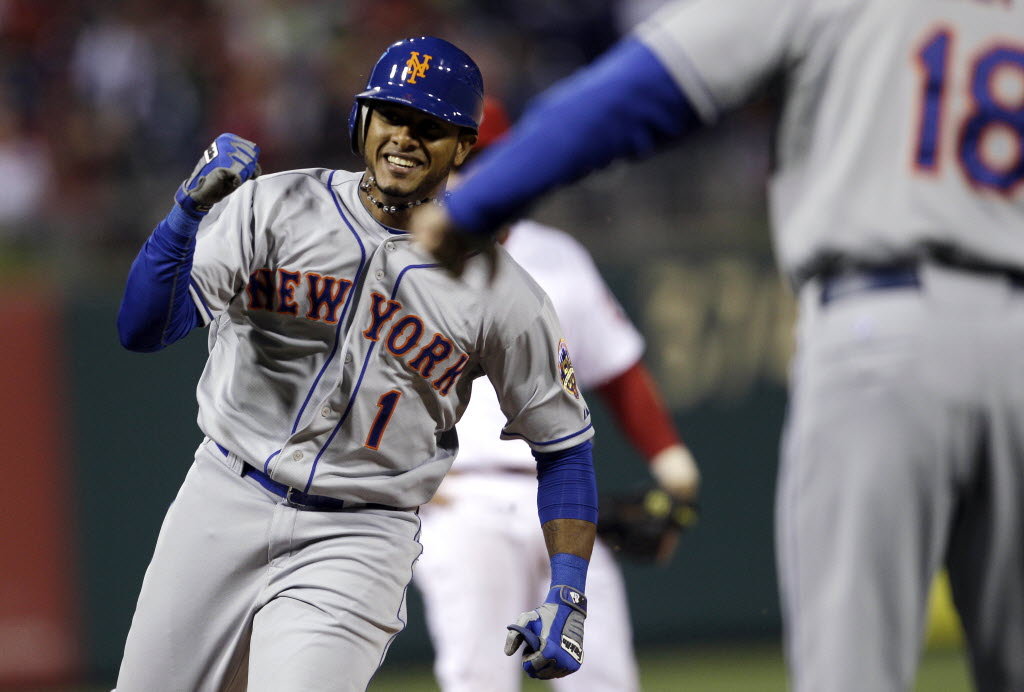 the team today. Under the old regime he might have had a longer leash, but not under Sandy Alderson. I trust the anonymous teammate that Valdespin is getting better, and I think he's learning what is and isn't acceptable in a clubhouse. Just as we've seen him mature as a hitter and a player overall, we're seeing him mature as a person. Give him some time.
Jordany Valdespin might have unlikeable traits, but he is clutch and he helps this team win. That's likable.
As a fan, I like to see the player on my team pump his fist after a big hit and run the bases with a smile on his face. Baseball is a game, let the players be happy when they should. Some spunk on the team is nice.
I'm with #PapiValdy.